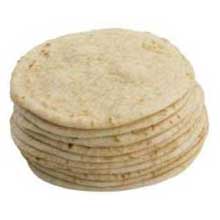 Composition

No Artificial Colours or Flavours

Methods of Preservation

Baked and cooled before packing in plastic Bags

Shelf Life

3 weeks, when stored below 4°c

Sensitive Consumer?

Not suitable for people with gluten intolerance

Final Customer Preparation

Its two layers are almost separated during baking, creating a hollow center, which can be split, making a pocket. It can be opened at one end and filled in to make a sandwich or cut in half to make two smaller sandwiches. It can also be used for Souvlaki kebabs, Pita bread, Souvlaki Pita bread, pizza bases and dips.

Sea Star Bakery is a well known souvlaki pita bread manufacturer and suppliers, providing the customers with superior quality kebab bread supplies among other products. Come, taste the freshness that oozes out from these exotic souvlaki pita breads that are manufactured with utmost care and passion.